One of my resolutions was to try one new recipe a month, and I've actually been surpassing that! I've saved up some photos of great meals I've made and have a little photo dump for you on this "What I Ate Wednesday". It's my first time participating in the link-up, but is a great way for me to share some snapshots of my yummy eats and get some of these photos off of my cell phone!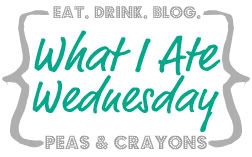 Sauteed kale salad with dried cherries and goat cheese and topped with an egg and sliced steak prepared by my boyfriend. I love cooking, but I'm lucky that he can help out too :)
The first time I used my spiralizer I made zucchini noodles as a side to this crusted tilapia and avocado cream dish. I followed this recipe except I changed up the tilapia part a little bit, using almond meal instead of corn meal and adding garlic to the crust.
A couple weeks ago I had some bites of takeout beef bulgogi and remembered how much I loved the delicious Korean dish. I found this recipe from A Spicy Perspective which uses a wok for easier cooking and ingredients I happened to all have on hand. It was simple and satisfying so I definitely see it something to keep in my dinner rotation!
PaleOMG's Almost 5 Ingredient Spaghetti Squash Pie was on the menu last week. I added some cheese to make it even more like pizza. Clearly I took a photo after I had dug into it and the leftovers did not make it through the next day. It's even boyfriend-approved-he said it was one of the best things I've made in a while!
My boyfriend whipped me up this super yummy dinner late one night last week, and it was heaven. It's basically sauteed kale and vegetables with a honey balsamic vinaigrette topped with a drippy egg. Perfection!
Pizza is one of my favorite foods. I made this awesome pizza this weekend using a FlatOut wrap, organic tomato pasta sauce, spinach, and mozzarella slices. It hit the spot!
Chocolate avocado mousse topped with mini chocolate chips and a big dollop of peanut butter. I posted my recipe a while back here except I have been using a whole avocado and omitting the banana.
I had a bunch of frozen corn to use up from my Friends and Farms CSA basket so I found this recipe in their newsletter for a corn and sweet potato chowder . I made some changes by halving the recipe and only pureeing half of the soup to leave some whole corn kernels and sweet potato chunks in it. I did not get as beautiful a color as the photos from the original recipe, but it tasted delicious!
What are some of your favorite meals lately? Any recipes you recommend?