Happy Friday, everyone! This week has been crazy busy for me so I can't wait for 5 o'clock today. I've got a work happy hour today, a long run with my marathon training group tomorrow, and then who knows! The weather here is supposed to be really nice before it gets back into a heat wave next week so I'll definitely be taking advantage of being outside.
Before my Friday favorites, the winner of my FrogFuel giveway is

Danielle Cloutier-Simons

! Congratulations-I'll be contacting you so you can receive your FrogFuel!


1. Favorite Dessert Recipe- Chocolate Chip Cherry Garcia Frozen Yogurt from Chocolate Covered Katie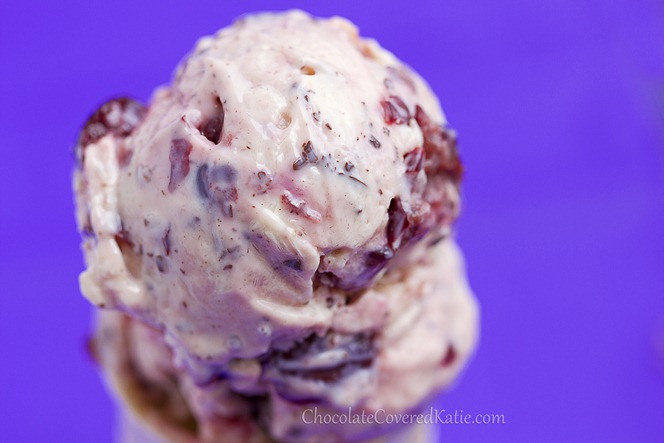 Image from recipe site here!
I wish I could just eat some Ben& Jerrys "Cherry Garcia" flavor ice cream every night but that isn't the most healthy idea so I was so excited when I pinned this similar frozen yogurt recipe from the Chocolate Covered Katie site , which is full of awesome healthy dessert and vegan recipes! I whipped this up in my ice cream maker last night with some plain greek yogurt, fresh cherries I had picked up at the farmer's market, and some dark chocolate. It is so delicious and guilt-free, because clearly some dark chocolate is good for the soul.
2. Favorite TV Show- Breaking Bad
For a while I survived only on Netflix until recently, when it was cheap enough to add some cable into my life. Besides watching HBO shows, I've been catching up on the first 8 episodes of the last season of Breaking Bad on AMC before it returns in August for the last half of the season. As always, the show keeps me on the edge of my seat!
3. Favorite Breakfast-PB&J Oatmeal
Besides the awesome blueberry pancakes my bf made me yesterday, I've been enjoying some oatmeal in the mornings with some peanut/almond butter, blueberries, and a spoonful of strawberry jam mixed in to make some PB&J oats. My bf even saved me an empty peanut butter jar for some overnight oats this week :)
4. Favorite Quick Workout- Short and Sweet Workout
I had a hard time getting out of bed this morning because it was so dark and rainy so I was short on time at the gym. I quickly came up with this workout, and it ended up being awesome and left me quite sweaty.
5. Favorite Song- Cups by Anna Kendrick from Pitch Perfect


I watched Pitch Perfect a while back and since then it's become my bf's guilty pleasure so we've watched it a few more times on HBO. The songs are awesome and my sister is always playing the soundtrack. They released this song as a radio edit, and it's so catchy-I love singing it in the car!
Do you have any fun weekend plans? What was your favorite workout this week?