The Road to 26.2 -Marathon Training Week 12

Runs:
Short runs: My training group was still hillwork again-gotta be prepared for those Baltimore hills! We did 4-5x each of the 4 hills. The last two hills are the steepest so I was definitely feeling it in my legs by the 4th or 5th repeat of those guys.
Long Run- Saturday was a scaled back week, mileage-wise. We did 14 miles, which is still no small run. I was in a rush in the morning which led me to only pack one gel and just fill my fuel belt with water and powerade. I was regretting not having another gel but ended up feeling okay. The first 7 miles were uphill and then we turned around and ran the last 7 mostly downhill so I wasn't hurting too bad. The weather was a bit cooler and the route pretty shaded so it was a nice run overall. My hamstrings still feel really tight so I need to take extra care of them and stretch out really good.


What was awesome last week:

I've been really great at

fueling properly and paying attention to eating more protein and carbohydrates. I've got my pre-workout meal down pretty well (nut butter, banana and bread or bagel) and am starting to choose better recovery meals/snacks. I think I'm going to try to make more smoothies because they seem to be very satisfying. Eat to grow! With a month left until the marathon as of today (AHHHHHHH!) I need to forget about worrying about my weight and just fuel my body with good food to prepare for the miles ahead!
What I need to work on this week:
I still on tinkering with my sleep schedule. If I can get to sleep and workout in the morning, then I have lots of time to take care of errands, cook dinner, and relax after work, which will allow me to get to bed earlier instead of sitting down at 9:30 PM after returning form the gym and just trying to all that.
I'm changing things up a little bit on you guys. There are tons of regular Friday posts bloggers have so I'm merging my Friday Favorites post and Five for Friday. I like the added alliteration of (nerd alert), and it's easy to stick to a number of things to ramble on about!
My FIVE Friday Faves this week are:
1. Favorite Contest: Delta Labs is having a
FALL INTO HEALTHY EATING Recipe Contest (I made up the name!). Entries should be original recipes with photos if possible and can be submitted via email to contests@deltalabsusa.com until next Friday 9/20/13. It can be any kind of healthy recipe that would be great for fall. The top 5 recipes will be announced on Monday 9/23, and the winner will receive a $50 VISA gift card and gets to have their recipe featured on the Delta Labs website and made into a Delta Dishes video!
2. Favorite Snack:
Think Thin Creamy Peanut Butter Bar
This bar is crazy delicious! I picked one up to have as an afternoon snack at work and wished I hadn't eaten it so fast! I bought it because it was gluten-free and had 20g of protein. It tasted like a peanut butter cup with it's soft peanut butter center coated in chocolate. It also didn't have that weird aftertaste some protein bars have.
3. Favorite Afternoon Pick-Me-Up:
Coco Cafe
Yesterday after work I was just feeling beat. All I wanted to do was veg out in front of the TV, but I needed to rally and do some homework and cook dinner. I was at the grocery store to pick up a few things for dinner and threw this into the basket with the hopes it would give me a little caffeine buzz. I was surprised at how delicious it was! It tasted like one of those Starbucks frappuccinos in the glass bottles but with less calories and sugar. These have a shot of organic fair trade espresso, a bit of reduced fat milk, and natural coconut water, all for 140 calories. The 120 mg of caffeine definitely helped me power through the afternoon.
4. Favorite Beauty Product:
Suki Face® Concentrated Nourishing Toner
I've reviewed products from Vitacost before because they have such an amazing blogger review program. My most recent shipment of goodies was some Suki beauty products! I used to have really bad acne and still have oily, acne-prone skin so I'm pretty cautious about what I use on my face.
All of the Suki products are non- comedogenic, cruelty-fre
e, sensitivity-tested, and synthetic free so I gave them a shot.
I used to use a Lancome toner that I swiped from my mom back in high school but have simplified
my face routine and haven't tried one in a while until I fell in love with the Suki toner!
Apparently it contains some shittake and olive leaf extracts to provide lots of antioxidants to the skin. I've been just misting it onto a cotton ball at night before I apply my night moisturizer. I forgot how refreshing and cooling toner feels. I haven't noticed a huge difference, appearance
wise, but I do think my skin has been looking pretty clear and nice lately. Check out the Suki products on Vitacost!
Remember to click
here
to shop Vitacost and save $10 on your order of $30 or more!
Disclosure: Vitacost provided me with an assortment of their products at no cost. I received no monetary or other compensation for this post. All opinions are my own.
5. Favorite TV Show:
Orange is the New Black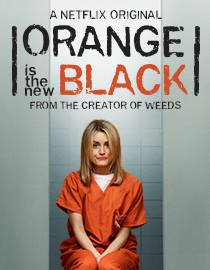 I FINALLY finished the whole season of Orange is the New Black on Netflix. The end is kind of emotional and cliff-hanger, but I can't wait for the next season! I plan on reading the actual book less which I'm sure will be filled with less sex and dramatized violence. I thought the show was really unique, well-acted, and funny. Check it out if you aren't already loving it!
How were your workouts this week? Any new favorite snacks or TV shows?