Since I was on a mini vacation to Atlantic City for over half the week, we're already at Friday which is awesome! Here's how my marathon training went last week!
The Road to 26.2 -Marathon Training Week 6
Runs:
Short runs: Week 6 was was so 3x hill repeats for 4 hills. I felt more comfortable doing hill work this week because my legs weren't really tight and I was feeling good before we started running. I got in a nice tempo run outside and did some intervals inside on a rainy afternoon too.
Long Run- Week 6 had us upping our miles again so I ended up running 15 miles at the trails near BWI which was cool because planes were flying in and taking off right above us. There was lots of cyclists so I definitely had to be paying attention about where I was running. Oh and it was my longest distance ever and I felt good. I'm getting the hang of fueling so far and making sure I drink enough water days before the long run!
What was awesome last week: It was the first time in a while I got all the workouts I wanted to in and it wasn't stressful. I did a little bit of outdoor running, treadmill intervals, and crossfit. It's nice when things just fall into place and you finally get into a groove!
What I need to work on this week: This week I need to work on getting enough sleep. I feel so much better when I get adequate sleep so I'm going to work on setting time to be in bed by so that I'm not be rushing or feeling like a character on the Walking Dead in the morning. That also means being in bed and not reading things on my phone, checking email, or scrolling through Instagram!
On to some things I've been loving this week!
Favorite dessert: Gelato from the little shop in the casino. It was right outside of the elevator and after passing it about 20 times I had to have some! I tried about 10 samples of flavors before I decided on a little cup of cheesecake and strawberry gelato. It was delicious, of course.
Favorite place to run: The beach,sigh. Why can't I have summers off and just live down the shore? This particular seagull didn't get spooked like all the other birds when I ran by either. It was so serene.
Favorite snack:
Siggi's yogurt, particularly this orange ginger flavor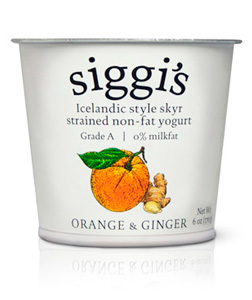 Siggi's is a brand of skyr yogurt that is even thicker and creamier than greek yogurt! Siggi's only has 5 or 6 ingredients and this particular flavor has 9g of sugar, which isn't too bad for flavored yogurt. I normally don't like orange things (besides the actual fruit and the occasional mimosa) but this flavor is so refreshing! It's amazingly delicious, and I've been enjoying it with some granola mixed in as a snack. I picked this up at Whole Foods but the brand is popping up at supermarkets all over the place.

Favorite song: Royals by Lorde

This 16 year old from New Zealand is crazy talented, and this song is super catchy. It's like a stripped down Ke$ha song. It should be the song of the summer for driving with your windows down when the sun shining and you'll soon be drinking a beer.
Oh and btw, it's already August. Where is summer going?
That's not cool. I think I need to make a summer bucket list. Stat. It's like a challenge now!

What's something you want to do before summer ends?