Um, when did June get here? I don't mind right now because I am loving sunny summery weekends. This weekend was one of those marvelous ones.
Time is flying by, and I'm SO excited that Fitbloggin' is in 26 days! YAY! I'll be talking about it before, during, and after the trip so stay tuned (and sorry in advance!).
Friday I went to Crossfit and rocked some deadlifts and then lounged around watching TV and eating this kale salad I made to dinner from an Eating Bird Food recipe. This salad was so good and was boyfriend approved! I added some chicken on top to make it a full meal.
I also picked up my latest package from Women's Health as part of my partnership with the magazine as a Women's Health Action Hero-two new flavors of the LUNA Protein Bars to try in lemon vanilla and chocolate
coconut
almond. I LOVE the chocolate chip cookie dough LUNA Protein Bar so I was excited to get to try these flavors. I even got a couple chapsticks in the chocolate
coconut
almond flavor and knew that flavor would be my favorite after testing those out!
As predicted, I loved the coconut chocolate almond which I gobbled up as a snack yesterday. It is gluten-free and packs 12g of protein in a delicious little bar that tastes like dessert! I packed the lemon vanilla flavor today as a pre-workout afternoon snack.
Saturday morning I meant to go to a free AM yoga class but instead slept in. I did my first Surfset class at a new Baltimore fitness studio called Beachfit (more on that later this week!) which was fun and definitely worked my core.
Afterwards I finally cashed in on my Starbucks birthday reward (seriously, what took me so long? I usually use it the day of my birthday!) and got a grande soy iced Oprah chai tea latte. It was so delicious I had to slow myself down from drinking it all in 30 seconds!
After a quick cupcake pickup from the bakery, I ran down to Rash Field in the afternoon to meet up with my November Project Baltimore tribe for our #Bmore_Bmore race event! We did a 4 mile untimed, free run dressed in Baltimore-themed costumes along the harbor and ended at a pub in Canton.
I rocked some grassroots gear, my black Rock City sequin running skirt, and my Under Armour Maryland Flag knee-high socks.
I didn't bring any water which was a big mistake because it turned out to be a really hot run. I was pushing a fast pace in the beginning but slowed down later due to feeling a bit dehydrated. No bueno. It ended up being super fun running around the tribe and lots of newbies while trying to recruit others to come out to our Wednesday workouts! Everybody was really fun and silly, in true November Project style!
Before we headed into the pub for beer and our awesome little swag bags, we had some water and a whole bunch of bananas donated from Whole Foods Harbor East.
Lately I've realized I'm a crazy banana lady who has at least one a day. I eat the plain. Or chopped up with peanut butter. Or freeze them and put them in smoothies. I also LOVE banana bread and have about 50 recipes saved on Pinterest. Last week we didn't have bananas for around 3 days in a row, and I was going crazy-it's my go to snack or breakfast!
A banana with nut butter and/or toast is even my go-to pre-race meal.
I'm like this with bananas: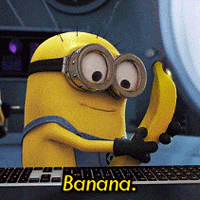 I'm more than happy to run for bananas, especially with the tribe!
November Project is bananas. B-A-N-A-N-A-S.
After a few beers with the tribe I headed to grab some ramen with a new November Project friend (and may have snagged an extra bunch of bananas to take home with me..).
I ended the weekend with a night of dancing and drinking, followed by a lazy Sunday that consisted of sleeping in really late, funfetti protein pancakes, pizza, and watching lots of The Mindy Project. A pretty great weekend if you ask me :)
How was your weekend? Do you love bananas as much as I do?
Disclaimer: I'm a Women's Health Action Hero helping to promote RUN10FEED10 and to test out products straight from Women's Health Magazine. I received two Luna bars free of charge in this partnership but no other compensation. As always, all opinions are my own.