Laissez Les Bons Temps Rouler or "Let the Good Times Roll", is a little French saying associated with Mardi Gras, which is today. This is going to be my theme for March because I have so many good things coming along in the next few months. Even a little snow and wintry weather won't get in my way.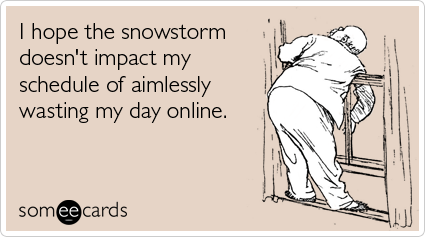 Although I don't mind snow days
Yes, there was another snow storm yesterday that resulted in a snow day for work AND school. This means staying in my pajamas all day, catching up on TV I missed during the Oscars Sunday night, and ending the day with a burger and a beer with my boyfriend. The burger was amazing and came topped with goat cheese and sauteed onions on a pretzel bun. I usually feel like burger buns are too much bread and end up only eating half the bun or picking the edges off so only about half is left (yes, I'm a super classy-looking eater). Last night, I was so excited for the delicious burger surrounded by the pretzel bun I told my boyfriend "This looks awesome. I'm even eating the whole bun" so he laughed and said that should be my blog post title. Voila. No photo because I pretty much devoured it before I even thought about taking a photo (bad blogger, I know). Life's too short not to enjoy a good burger every once in a while.
On Sunday I had a fabulous little Oscars party with a nice little spread of appetizers and drinks.
I used peanut butter along with mini chocolate chips, and they tasted way more sinful than they actually are. My boyfriend and I ended up finishing up the leftovers for breakfast the next day. He said they were one of the best "healthy" desserts I've ever made!
If you missed it here are some of my favorite Oscars highlights. Leo lost (boo), but Cate Blanchett won (yay). Jared Leto won for Best Supporting Actor and is as sexy as he was in his Jordan Catalano days, although he needs the ends of his hair trimmed.
Ellen posted a star-studded selfie that became the most retweeted tweet ever. She also had a guy deliver pizza to pass out to the crowd. Brad Pitt even looks good chowing down on some pizza.
John Travolta royally butchered pronouncing Idina Menzel's name which was hilarious. Oh and this happened at the end of Matthew McConaughey's awesome Best Actor Award speech. The only thing that would have made his speech better was if he performed his tribal, chest-bumping song from The Wolf of Wall Street.
On Saturday, before all of the Oscars fun, I had a nice 10 mile run with some friends and am feeling VERY unprepared for my first race of the spring-the Rock and Roll DC Half Marathon. It's a little less than two weeks away, and I just haven't been running as much. I can blame it on the cold, wintry weather, but at this point there isn't much I can do.
I'll try to just take it easy and have fun and hopefully not run my slowest half marathon ever. I looked at the course map. and it seems there is only some big hills around miles 6-7 so hopefully the race will be manageable. Right now I'm focusing on getting a few more runs in, stretching, and making sure I'm hydrated.
This week I'm hoping to get back on track with healthy eating, workouts, and looking my best for when it finally gets warmer outside. I'm not greedy, I'm just asking for a little springtime weather!
What was your favorite Oscars highlight if you watched them? What are your tips when feeling under-prepared for a race?