Another reminder, that you have 2 more days to enter my Truebar giveaway with THREE winners
here
!
Even though I took off work on Monday, this week still has felt long! As I try to shush all the people and stores and advertisements that scream that it's the holiday season, I have to admit, it is almost here. Sorry, I'm not decorating or listening to Christmas music until after Thanksgiving. Retail stores being open at all on Thanksgiving is ridiculous, to give my two cents. I'll try to focus on the positive aspects of the holiday-like all the food. Thanksgiving is awesome because it's a meal of mostly comfort foods that leaves you feeling all warm and satisfied inside. Sadly there aren't any turkey trots super close by my parents place Thanksgiving morning so I don't partake in that tradition. I am fond of the phrase "Huffin' for the Stuffin'" associated with turkey trots though :) Today I share with you my favorite things about Thanksgiving !
Five Friday Favorites -Thanksgiving Edition
1.

Family
Thanksgiving is awesome because it's one of the holidays that doesn't involve gifts or lots of activities (at least in my family). It's just family hanging out, catching up, and eating lots of great food. Especially in this day and age with everybody so busy, it's nice to put down the cell phones and get together with your whole family for a nice meal.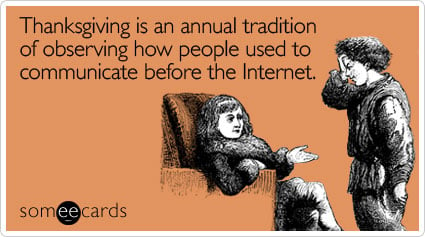 Sad, but true?
2. Pumpkin Pie
I'm a huge fan of pumpkin pie. It's unique and super delicious topped with tons of whipped cream. I don't even like the crust-just give me all of the filling. Sadly, my boyfriend is crazy for pecan pie, which is okay (better if it's made made with chocolate in the filling!), so I make that much more often.
Team pecan pie or pumpkin pie? Pick a side!
3.

Macy's Thanksgiving Day Parade
Watching the Macy's Thanksgiving Day Parade on Thanksgiving morning is a tradition for my family. I was even super stoked when Towson University's, my alma mater, band played in the parade in 2009. Yes, I double checked the year to get you the straight facts! It's corny, but I love the enormous balloons, Broadway show song performances, and musical guests on floats. With Santa and his sleigh closing the parade (who looks pretty legit in my book), it's the official start of holidays and gives me the okay to start listening to Christmas music.
4. Football
It's great to sit on my parent's couch with family and watch football on their big TV for most of the day. There is always a bunch of great match ups, and my home team usually isn't playing so it's pretty stress-free :)
5.

Leftovers
Pretty much the best kind of leftovers, let's be honest. I love eating leftovers in a variety of ways-turkey sandwiches, turkey soup, cranberries and sweet potatoes with eggs, and some pumpkin pie for dessert-again.

Pumpkin or pecan pie? What is your favorite Thanksgiving tradition?