First off, congratulations to KM Runner for winning my Hot Chocolate Race entry giveaway!
As always, remember you can still register for any Hot Chocolate 15k/5k race and use my code BREATHEMUG to receive a free travel mug at packet pickup! It's always a great time when it involves running and chocolate!
As I mentioned on Monday, this past weekend I was tested by the BOD POD. If you've never heard of it before, it's pretty much an egg-shaped chamber you sit in that takes measurements of your body mass (weight) and volume using air displacement technology, similar to the principles of underwater weighing. Or you can just pretend it's a spaceship because I think it looks like something straight out of a science fiction movie.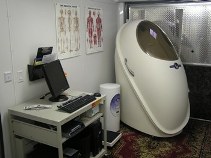 The BOD POD on the right
Your weight is measured using an accurate electronic scale and then you sit inside the Bod Pod chamber for two fifty second air measurements, after the machine has been calibratred. From these two measurements your body composition is calculated along with calculations of caloric information such as resting metabolic rate and total energy expenditure (these use some information from a client information form such as height, activity level, etc.). The BOD POD only determines fat vs. fat free mass not fat vs. muscle, which is important to keep in mind.
I have an electronic FitBit scale that is supposedly very accurate and gives body fat percentages based on bio-electrical analysis, which I have found to be varying based on body water content.
THE BOD POD sounds like a strange test, but in my area there is a mobile Bod Pod through
Be Fit Test, LLC
which happened to be at the gym around the corner so I decided to spend the $45 and see what it was all about. This teseting is apparently used by pro and university sports teams along with many gyms because it is relatively inexpensive and fast, while still fairly accurate.
The day before the test I was told no food, exercise or drinking for 2 hours prior to testing. My appointment was 8:30 AM so none of that was a problem for me. I think that like weighing yourself, getting tested by a Bod Pod would be best in the morning. You also must remove all jewelry, watches, etc. and wear a one piece bathing suit or form fitted clothing-I wore compression shorts and a sports bra. A swim cap was provided there to wear in the chamber.
Like I had mentioned, the night before I had been out late drinking some adult beverages and then enjoying some late night pizza so I thought about cancelling my appointment due to water retention and bloating which I could use as an excuse if I didn't like my results. However, that morning I suppose I was feeling confident because I realized it's just some silly test. Whatever it said shouldn't change how I feel about my body, which isn't too shabby anyway :)
The whole process was very quick. I showed up and was led into this mobile unit. Now I didn't take any photos because I thought that would be a little creepy, and frankly I was still not fully awake so these are from the website.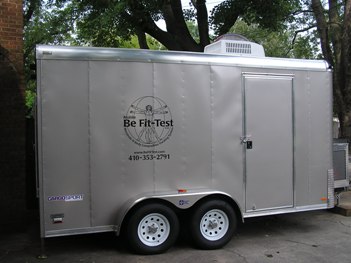 The whole trailer unit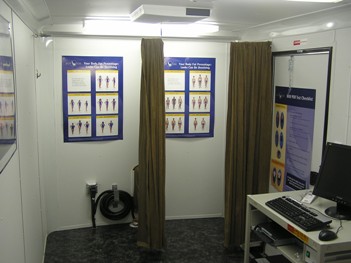 inside the trailer
(All photos and technical information are from
this website
)
I met with the owner Matt, and we talked about what I do and why I'm getting tested as I filled out a waiver and client information forms. He pretty much just asked for my height, age, and activity level. I took the sweatpants and hoodie I had on over my compression shorts and sports bra off and put on the swim cap. The BOD POD was calibrated, and then I was weighed on a digital scale.
Next I sat inside the BOD POD chamber as still and quietly as possibly for two 50 second measurement periods. I was worried it would feel very claustrophobic but with the clear front panel it felt completely comfortable and was very quick.
After getting out of the chamber, my test results were printed instantly. I was pretty happy with the results. My weight matched within a pound to my scale at home and the body fat percentage was only 2% different. I was just barely in the category of lean at 22% which is fine with me.
The body fat composition scale provided on my results is as follows:
Risky (low body fat) = <5% for men, and <15% for women
Ultra Lean = 5-8% for men, and 15-18% for women
Lean = 9-12% for men, and 19-22% for women
Moderately Lean = 13-20% for men, and 23-30% for women
Excess Fat = 21-30% for men, and 31-40% for women
Risky (high body fat) = >30% for men, and >40% for women
Matt also showed me a chart with photos of men and women of different heights and body types at different body fat categories, which is really eye-opening and goes to show that body fat percentages look different on different people, so you really shouldn't focus on a certain number.
I don't like to focus on numbers especially since I've really stopped using my scale, but the whole experience was definitely interesting. The test showed me that my home scale seems to be fairly accurate, but surprisingly it has given me more confidence in my fitness and body. I think being in a vulnerable position like that is a pretty big thing to do, especially when it comes to females and weight (I hate being weighed at the doctors).
The test reassured me that those 6 or 7 pounds I gained during marathon training and still haven't lost are not just pure fat. So really who cares what the scale says-it's ridiculous. If the testing is available in your area and you are interested, I'd say check it out. I wouldn't take the results to heart because there is always a lot of variables, no matter how accurate a test says it is. Self-love for the win!
Have you ever heard of the BOD POD? Have you ever had a body composition test done?