Here's to the last week of summer. How depressing. I missed my usual Marvelous in my Monday post yesterday due to a crazy day at work, rushing around to get books and such for the class I'm taking this semester, and being really exhausted. I had a touch of food poisoning or something on Friday which left me feeling pretty blah all weekend. Here's a few things on my mind this Tuesday.
1. I haven't gone camping or anything this summer (sad, I know) so I haven't had a chance to have s'mores. I decided to make some in my microwave on Saturday, even though it's kinda lame, it was still delicious!
I used Hershey's chocolate with almonds, gluten-free marshmallows from Whole Foods, and these AMAZING homemade graham crackers! It was a pretty awesome dessert and the crackers were gluten free, paleo, and vegan. I didn't have the yacon the recipe called for so I used half maple syrup, half molasses.
2. I finally went to a yoga class last night for the first time in a long while. I was really tight and need to work on my mobility but can still do crow pose and a back bend. I'm definitely going to try to work it into my schedule at least once a week. It helped start of my week in a mindful state and will probably help with some of the aches and pains I'm feeling right now from marathon training!
3. Delta Labs, the makers of awesome women's health and wellness supplements, is having a Labor Day sale on Monday where all orders will be 50% with the coupon code "LABORDAY" when you place an order through their site here!
I've been using the Acai + vitamins and definitely notice an increase in my energy! I'll post later this week about all the swag I was sent as a Delta Labs Ambassador! Remember my coupon code "BREATHEBLOG" gets you $5 off your order any day if you miss out this deal (unfortunately both coupon codes cannot be combined!).
4. People are still talking about Miley Cyrus at the VMAs. C'mon guys, we all knew she was crazy pants. I was watching Breaking Bad and Newsroom while the VMAs were on and just watched the performances online later that night because everyone was talking about them.
I still hate Taylor Swift but love that she got caught dropping the f-bomb about Harry Styles on TV as Selena tries to look away.
Miley is still laughing her way to the bank right now. But I do love all the memes and gifs that have come out of it. Like this one of my boy Drake waiting for her performance to be over.
Final thing to say about the VMAs, Lady Gaga and Justin Timberlake are still amazing.
5. To update on my own little happiness project, I got a bit of frozen yogurt this weekend and have a manicure scheduled for later this week. I'm also in the process of updating my Mint.com account. Go me.
6. A new baby panda was born at the National Zoo and had it's first checkup! Pandas are my favorite so you bet I'll be making a trip down to the zoo once it gets a little bigger. Look at it's little smile!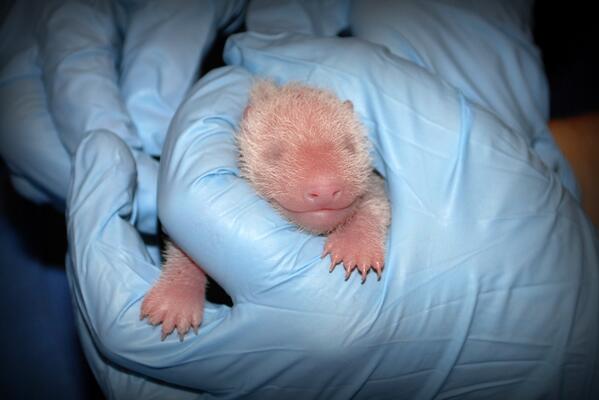 From this Huffington Post article
The panda couple there had some problems getting pregnant and

Mei Xiang, the panda mommy, delivered a stillborn twin right after this one. I hope all goes well with this baby. Apparently there were two tiger cubs born as well, which are both equally as cute.
You can follow their progress here!
Do you have a favorite animal? Did watch the VMAs?