Hello all! This week has been so stressful and messy since I came back from vacation mid-week so I've been all off track. Here's a just a few Friday Favorites to hold you over until I get myself together :)

1. Favorite Workout Song- Default by Django Django
I am OBSESSED with this song. It's catchy and upbeat and will have you bopping your head to it in no time. I'm hoping to catch Django Django when I'm down at Bonnaroo in a couple of weeks!

2. Favorite Recipe to Try this Weekend- Chocolate Chip Cherry Garcia Frozen Yogurt from Chocolate Covered Katie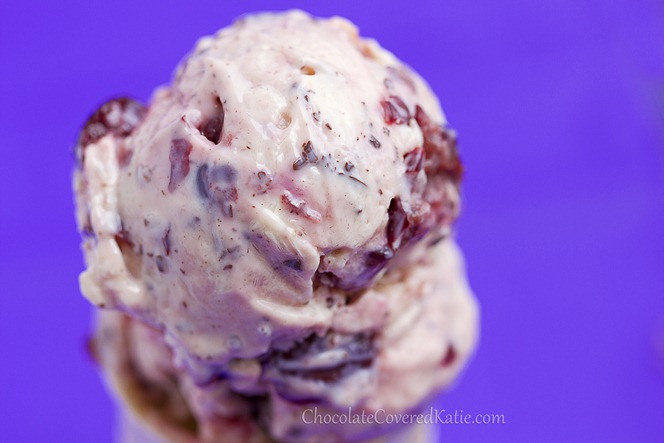 Recipe is here on the CCK site!
I am a big fan of Chocolate Covered Katie's recipes because most of them are sweets and all of them are healthier versions, with many being gluten free or vegan! I just saw this recipe for chocolate chip cherry garcia frozen yogurt on her blog and am swooning. The Ben and Jerry's version of this flavor is probably my favorite (unless I'm having a massive chocolate craving!) so I'm excited to see a lower calorie version. A long weekend will be the perfect time to break out the ice cream maker and make a cool treat!
3. Favorite Almost Summer Motivation
Not sure whose it is but I pinned it here!
Right now this is some great life motivation. Whether you are scared about upcoming career changes (me) or putting on a bathing suit for the first time this season (also me), let go of the fear and strive for what you want, not what is easier to settle for!

4. Favorite Adult Beverage-Skinny Coconut Mojito
On vacation drinking one of a few skinny coconut mojitos via my Instagram
Of course while on vacation last week, I consumed some adult beverages during the day and with dinner since I was on vacation after all. I fell in love with this drink from the Disney bar menu and it is going to become my summer go-to drink. I snapped a photo of the menu so I'd remember the ingredients! I need to play around with the proportions but already have everything except the vodka on hand. The coconut water makes it hydrating and the fresh lime juice and mint add a refreshing touch!
What are you looking forward to doing or eating or drinking this Memorial Day weekend?